GALLERY HIROKO - From Works of HIROKO HINOMA -
◇ Works on 2000


『draw-1007』 2002, 250mm x 625mm Acrylic on canvas
(JPEG 42KB)

draw-06 2000, 334mm x 212mm Acrylic on paper
(JPEG 55KB)



draw-07 2000, 200mm x 200mm Acrylic on board
(JPEG 26KB)


draw-09 2000, 500mm x 370mm Acrylic on canvas
(JPEG 38KB)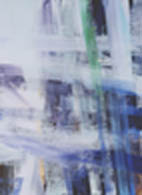 draw-1013 2000, 1303mm x 970mm, Acrylic on canvas
(JPEG 64KB)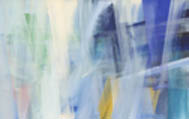 draw-1015

2000, 727mm x 1167mm, Acrylic on canvas
(JPEG 66KB)




I take Japanese traditional water paint, which I loved since my childhood and mix it with acrylic colours for creating my favorite colours and representing my imagination.
With several brushes (from writing brushes to Japanese brooms) I put the mixed colors on cotton canvases. Cotton is able to absorb water colours very easily and so it is the perfect combination. I first start with one line and put one line after the other on the entire surface. In the end you can't count them anymore, it became a complete work filled with lines and space and in between, in the mixture of light, shade, space and depth you feel what I wanted to show.
It is my personal impression of air and/or light.
Sept. 2000
Return to GALLERY HIROKO